A method for studying decision-making by guideline development groups
Gardner, B., Davidson, R., McAteer, J. , Michie, S. & Evidence into Recommendations study group, . (2009). A method for studying decision-making by guideline development groups. Implementation Science, 4, 48. doi: 10.1186/1748-5908-4-48
Abstract
Background
Multidisciplinary guideline development groups (GDGs) have considerable influence on UK healthcare policy and practice, but previous research suggests that research evidence is a variable influence on GDG recommendations. The Evidence into Recommendations (EiR) study has been set up to document social-psychological influences on GDG decision-making. In this paper we aim to evaluate the relevance of existing qualitative methodologies to the EiR study, and to develop a method best-suited to capturing influences on GDG decision-making.
Methods
A research team comprised of three postdoctoral research fellows and a multidisciplinary steering group assessed the utility of extant qualitative methodologies for coding verbatim GDG meeting transcripts and semi-structured interviews with GDG members. A unique configuration of techniques was developed to permit data reduction and analysis.
Results
Our method incorporates techniques from thematic analysis, grounded theory analysis, content analysis, and framework analysis. Thematic analysis of individual interviews conducted with group members at the start and end of the GDG process defines discrete problem areas to guide data extraction from GDG meeting transcripts. Data excerpts are coded both inductively and deductively, using concepts taken from theories of decision-making, social influence and group processes. These codes inform a framework analysis to describe and explain incidents within GDG meetings. We illustrate the application of the method by discussing some preliminary findings of a study of a National Institute for Health and Clinical Excellence (NICE) acute physical health GDG.
Conclusion
This method is currently being applied to study the meetings of three of NICE GDGs. These cover topics in acute physical health, mental health and public health, and comprise a total of 45 full-day meetings. The method offers potential for application to other health care and decision-making groups.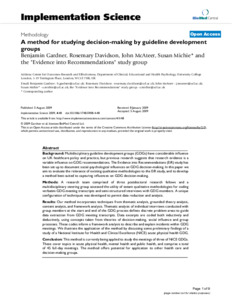 Preview
PDF - Published Version
Available under License Creative Commons: Attribution 3.0.
Download (903kB) | Preview
Export
Downloads
Downloads per month over past year
Altmetric

Altmetric
CORE (COnnecting REpositories)

CORE (COnnecting REpositories)
Actions (login required)

Actions (login required)