Facilitation of information literacy through a multilingual MOOC considering cultural aspects
Dreisiebner, S., Polzer, A. K., Robinson, L.

ORCID: 0000-0001-5202-8206 , Libbrecht, P., Bote-Vericad, J-J., Urbano, C., Mandl, T., Vilar, P., Zumer, M., Juric, M., Pehar, F. & Stricevic, I. (2021). Facilitation of information literacy through a multilingual MOOC considering cultural aspects. Journal of Documentation, 77(3), pp. 777-797. doi: 10.1108/JD-06-2020-0099
Abstract
Purpose
The purpose of this paper is to demonstrate the rationale, technical framework, content creation workflow and evaluation for a multilingual massive open online course (MOOC) to facilitate information literacy (IL) considering cultural aspects.
Design/methodology/approach
A good practice analysis built the basis for the technical and content framework. The evaluation approach consisted of three phases: first, the students were asked to fill out a short self-assessment questionnaire and a shortened adapted version of a standardized IL test. Second, they completed the full version of the IL MOOC. Third, they were asked to fill out the full version of a standardized IL test and a user experience questionnaire.
Findings
The results show that first the designed workflow was suitable in practice and led to the implementation of a full-grown MOOC. Second, the implementation itself provides implications for future projects developing multilingual educational resources. Third, the evaluation results show that participants achieved significantly higher results in a standardized IL test after attending the MOOC as mandatory coursework. Variations between the different student groups in the participating countries were observed. Fourth, self-motivation to complete the MOOC showed to be a challenge for students asked to attend the MOOC as nonmandatory out-of-classroom task. It seems that multilingual facilitation alone is not sufficient to increase active MOOC participation.
Originality/value
This paper presents an innovative approach of developing multilingual IL teaching resources and is one of the first works to evaluate the impact of an IL MOOC on learners' experience and learning outcomes in an international evaluation study.
Publication Type:
Article
Additional Information:
© Stefan Dreisiebner, Anna Katharina Polzer, Lyn Robinson, Paul Libbrecht, Juan-Jose Bote-Vericad, Cristobal Urbano, Thomas Mandl, Polona Vilar, Maja Zumer, Mate Juric, Franjo Pehar and Ivanka Stricevic. Published by Emerald Publishing Limited. This article is published under the Creative Commons Attribution (CC BY 4.0) licence. Anyone may reproduce, distribute, translate and create derivative works of this article (for both commercial and non-commercial purposes), subject to full attribution to the original publication and authors. The full terms of this licence may be seen at http://creativecommons.org/licences/by/4.0/legalcode
Publisher Keywords:
Information literacy, MOOC, OER, Assessment, Multicultural, Massive open online course, Open educational resources, Multilingual facilitation
Subjects:
L Education > LB Theory and practice of education > LB2300 Higher Education
Z Bibliography. Library Science. Information Resources > Z665 Library Science. Information Science
Departments:
School of Communication & Creativity > Media, Culture & Creative Industries > Library & Information Science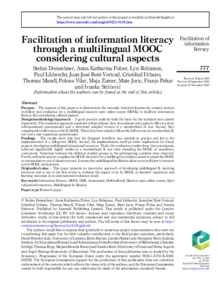 Preview
Text - Published Version
Available under License Creative Commons: Attribution International Public License 4.0.
Download (1MB) | Preview
Export
Downloads
Downloads per month over past year
Altmetric

Altmetric
CORE (COnnecting REpositories)

CORE (COnnecting REpositories)
Actions (login required)

Actions (login required)