How to overcome path dependency through resource reconfiguration
Goumagias, N. D., Fernandes, K., Nucciarelli, A. & Li, F.

ORCID: 0000-0002-6589-6392 (2022). How to overcome path dependency through resource reconfiguration. Journal of Business Research, 145, pp. 78-91. doi: 10.1016/j.jbusres.2022.02.040
Abstract
Firms often reconfigure their resources responding to changes of their external or internal environment, often incorporating new knowledge and resources in collaboration with external stakeholders. However, the reconfiguration process is challenging, costly, and often fails. The firm's history plays an important role in the resource reconfiguration process. Often called path dependency, it is argued that it leads to lock-in effects that prevent reconfiguration. However, we argue this is a very limited viewpoint. In this paper, drawing empirical evidence from the video games industry, we argue that path dependency bounds the reconfiguration action space and can potentially improve strategic planning identifying paths of least resistance. Depending on the extend of the reconfiguration we identify two alternatives: direct reconfiguration (horizontal reconfiguration) or increasing the complexity by incorporating additional configurations (vertical reconfiguration).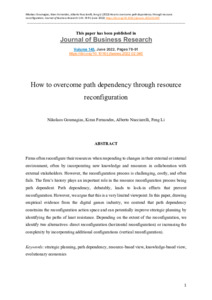 Preview
Text - Accepted Version
Available under License Creative Commons Attribution Non-commercial No Derivatives.
Download (943kB) | Preview
Export
Downloads
Downloads per month over past year