Locating Fear: A pilot study examining the use of a chatbot app to surface embodied experiences of fear in situ.
Saker, M.

ORCID: 0000-0002-7414-2840, Mercea, D.

ORCID: 0000-0003-3762-2404 & Myers, C. A.

ORCID: 0000-0001-8216-2844 (2023). Locating Fear: A pilot study examining the use of a chatbot app to surface embodied experiences of fear in situ.. London, UK: School of Policy & Global Affairs, City University of London.
Abstract
High-profile stories have highlighted the fear many women experience during their daily lives as well as the ongoing fear many students who identify as women, for instance, experience in UK universities during their education. These stories underline the seriousness and prevalence of the situation, the substantial emotional and psychological consequences relating to it, many of which remain invisible.
Many studies exploring fear often exclude embodied data that is gathered by participants in the context of their daily mobilities. This pilot study was designed to address the imbalance by providing a more situated understanding of fear. Using a bespoke chatbot, City Life, the research team engaged students in the context of their lives at university, providing them with the means and the opportunity to chart their journeys to and from university, to reflect on their experience at university, moving through the campus and socializing in and out of the university.
Findings indicate that while students felt generally safe within the university, the experience of higher education was not restricted to the physical space of university buildings. Nearly all our research participants frequently travelled a considerable distance to get to university. Especially the necessity to use public transport to attend university meant that participants routinely inhabited enclosed spaces with strangers engaged in anti-social behaviour. It was not always the case that participants could simply sidestep specific settings if these sites were an unavoidable element of their journey. The use of City Life enabled the research participants to document such experiences as they occurred in situ. This is important as research suggests individuals are compelled to discuss an emotional experience as soon as it has happened.
Our research ultimately points to implications for how women's educational experience may be influenced by attending a non-campus-based institution. First, the requirement to commute to and from university meant that some women students were less likely to spend additional time at the university. Likewise, these students appeared less likely to attend extra-curricular classes or talks, particularly if these sessions are scheduled later in the afternoon or during winter months. Consequently, if institutions primarily focus on the campus itself, some women students will have a different learning experience to students able to spend more time at university. Second, the time spent in university might correlate with the development of social ties beyond designated learning activities. Given that this community is established in the context of learning, it may result in a distinctive learning environment, as it is less likely that formative peer engagement will continue beyond the physical parameters of the class.
Finally, our research has produced a chatbot app that can be used in future projects. This application might be in the context of a (1) a stand alone piece of work by other universities to measure levels of fear in and around their campus, or (2) as part of a large grant proposal by the research team for a large-scale longitudinal piece of work. In either case, our chatbot app can be used to make policy decisions, as well as feed into wider policy debates, such as UUK's Changing the Culture.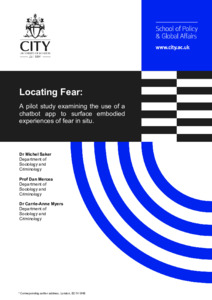 Preview
Text - Published Version


Download (569kB) | Preview
Export
Downloads
Downloads per month over past year
Altmetric

Altmetric
CORE (COnnecting REpositories)

CORE (COnnecting REpositories)
Actions (login required)

Actions (login required)